As of July 25, on-chain data indicates that the hash rate dedicated to the Litecoin network for mining from Binance Pool, a platform focused on improving miners' income, is down by over 50% in the past seven months.
In crypto mining, hash rate is the cumulative computing power funneled to a proof-of-work network like Bitcoin, Litecoin, or Monero. 
These public networks rely on miners distributed across the globe for security, decentralization, and transaction confirmation.
Binance Pool Hash Rate To Litecoin Drops By 50%
Presently, Binance Pool is allocating approximately 28 TH/s of hash rate to the Litecoin network, a decrease from the average of around 69 TH/s recorded in January 2023. Consequently, Binance Pool has lost its standing as one of the dominant Litecoin mining pools as of July 2023.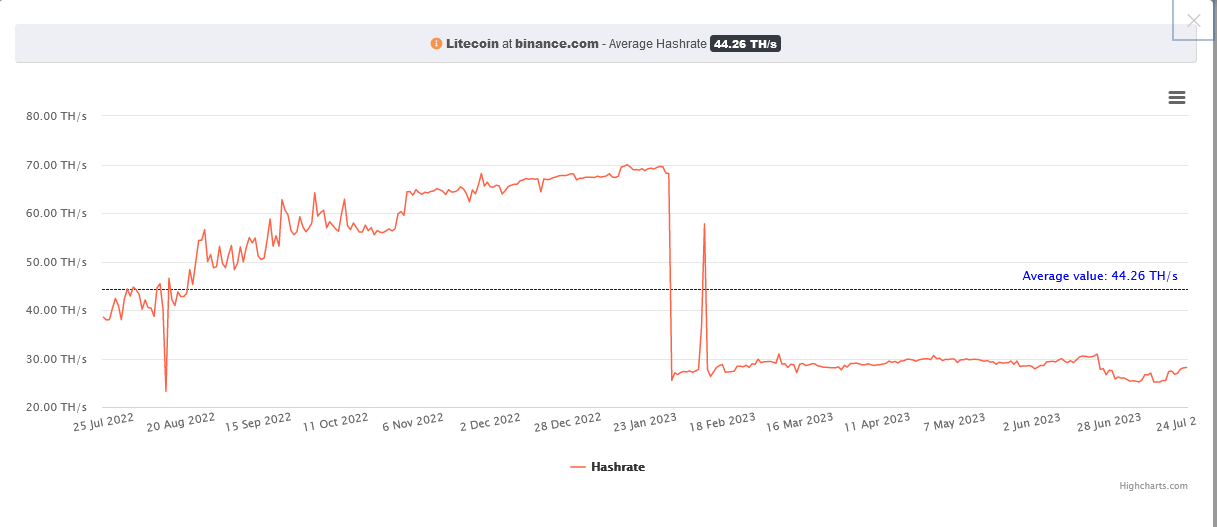 As of July 25, Binance Pool is ranked 7th in the Litecoin mining pool scene, accounting for approximately 3.6% of the total hash rate share.
In comparison, competitors like Poolin, F2Pool, and viaBTC occupy higher positions, indicating that despite Binance Pool being backed by Binance, the world's largest crypto exchange, miners are opting for other pools, some of whom were among the first mining pools in the globe.
At the moment, it cannot be immediately ascertained as to what the cause can be. However, Binance faces legal challenges in multiple countries, especially in the United States.
Two of the country's top regulators, the Commodity Futures Trading Commission (CFTC) and Securities and Exchange Commission (SEC), have sued the exchange, accusing them of violating securities laws.
Based on the hash rate, viaBTC currently controls the lion's share in Litecoin mining, carving out 33% of the total Litecoin network hash rate. F2Pool follows with around 17.2% share, while antpool ranks third with a market share of 13%. Litecoin Pool and Poolin also channel more computing power than Binance Pool.
Given the increasingly competitive mining landscape, individual miners must pool their resources and dedicate hash rate through a mining pool.
Despite the drop in rankings and hash rate over the last seven months, Binance Pool still plays a critical role in proof-of-work mining networks, including Bitcoin.
Halving Incoming, Will LTC Rally?
Litecoin currently offers miners 12.5 LTC and transaction fees for each block mined. However, this reward will be halved in the upcoming weeks.
The halving even will impact block mining revenue. Nonetheless, a price increase could encourage miners to upgrade their equipment and deploy miners with higher hash rates.
Presently, Litecoin has a total hash rate of approximately 780 TH/s, with the network releasing 7,200 LTC to miners daily. However, with the expected supply shock, how Litecoin prices react is yet to be seen. If past cycles guide, Litecoin may rally.
According to Litecoin daily price charts, LTC has a resistance at around $115 but is trading below $100. At this level, it is down 23% from July 2023 peaks.
Feature image from Canva, chart from TradingView