Today, Bitcoin took another dive, this time to its lowest level since June 21. A check on Bitfinex reveals a BTC price slump to $28,641. Coinbase, America's largest crypto exchange, reported an even more drastic drop to $28,478. Although the price bounced back slightly to hover just below $29,000 (-1.4% in the last 24 hours), the downward trend sparks questions.
Why Is The Bitcoin Price On The Decline?
James V. Straten, a renowned on-chain analyst, recently tweeted: "Bitcoin drops below $29,000 as open interest spikes while funding rates go lower. As a result of the biggest long liquidation since 24th July." As the analyst states, Bitcoin's price trend can be majorly attributed to long liquidations. The liquidation data from Coinglass indicates that $23.6 million in BTC longs were liquidated, a relatively small amount but significant considering the market's state.

In an illiquid market, smaller orders can significantly sway the market. According to data from Kaiko, BTC and ETH have seen a decline in 90-day realized volatility this year, with volatility levels currently hovering around two-year lows.
Moreover, Kaiko's data also reveals that Bitcoin's correlation with the S&P 500 continued to decline in July, falling to just 3%. The last time it was this low was back in August 2021. This suggests that the traditional financial market's influence on Bitcoin's price is waning, an impulse much needed at the moment.
Analyst @52Skew noted that BTC Spot CVDs & Delta Retrospective were hinting at the downtrend. "There were clear signs of spot supply & sellers, especially on Coinbase. Aggregate Spot CVD indicated heavy supply prior to sell off: Price grinding higher into limit supply & market spot selling."
Meanwhile, renowned trader @exitpumpBTC pointed out on Twitter: "Someone sitting with 400 BTC buy wall at $28,900 on Binance spot orderbook. Fully closed my short." This buy wall might provide some support for Bitcoin's price at the current level.
Bitcoin Market Sentiment Weighs On Price
The Bitcoin Market Sentiment, as represented by the Fear & Greed Index, is presently at 50 – neutral. However, the sentiment on the Bitcoin and crypto market is lukewarm, despite BTC being up 76% year-to-date. The fading momentum seems to be due to the Bitcoin and crypto market's current "summer slumber." The bullish news seems already priced in, and volumes on exchanges are dwindling.
Interestingly, despite some major bullish developments for the broader crypto market, including Blackrock's filing for a spot ETF and the victory for XRP and Ripple, the retail and institutional interest remains low. This is reflected in the low liquidity and volatility in the market.
Remarkably, the crypto space has been rocked by an array of events recently. From the rise of liquidity absorbing meme coins to scam tokens, the market has seemingly descended into chaos. In the midst of all these, impending events such as the Curve (CRV) hack as well as fears of a potential DOJ action against Binance and Tether, continue to add anxiety to the market. In this uncertain state, there are no new investors to catapult the market upward.
At press time, BTC traded at $28,990.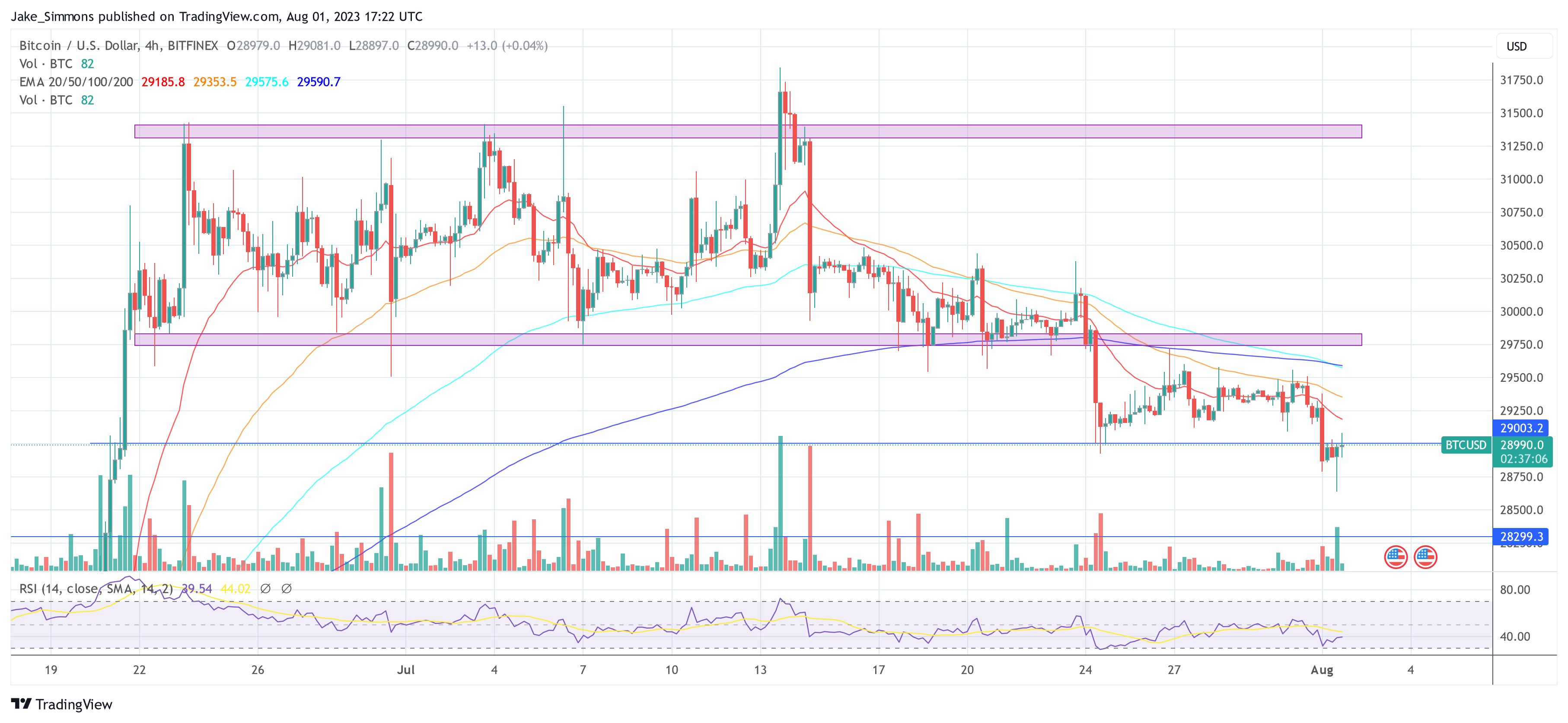 Featured image from iStock, chart from TradingView.com